Please join us for an exclusive conversation with leadership from Bon Secours Health System, Children's Hospital of the King's Daughter, and VCU Health System. Panelists will share lessons learned throughout the past year, including:
What the pandemic taught us from master planning perspective
Capital shortage in healthcare – financial implications as a result of COVID
Virtual health in a post-COVID world
Moderator: Leigh Sewell, President for Bon Secours' Memorial Regional Medical Center and Rappahannock General Hospital.
Leigh Sewell serves as the President for Bon Secours' Memorial Regional Medical Center and Rappahannock General Hospital.  As President, Leigh is responsible for the leadership and daily operations of these two entities.    The 225-bed acute-care Memorial Regional Medical Center is one of the top 50 hospitals in the nation, now celebrating 20+ years of serving the residents of Hanover and Henrico counties and Virginia's Northern Neck.  Rappahannock General Hospital, 25-bed facility, offers medical, surgical and behavioral health services in the Northern Neck and Middle Peninsula. The facility includes a Cancer Treatment and Education Center, and celebrates over 44 years of service to the community.
Leigh has been with Bon Secours for 15 years and prior to her current role, Leigh served as senior vice president of strategic operations for Bon Secours Virginia, leading business development and growth, strategic communications and the project management office.  Prior to joining Bon Secours, Leigh spent 9 years at Circuit City in leadership roles in Accounting.
Leigh earned her Master of Science in Health Administration from Virginia Commonwealth University in Richmond, and her Bachelor of Business Administration in Finance from James Madison University in Harrisonburg, Va.
She is a passionate advocate for all children with disabilities, and helped develop the concept for Richmond Hope Therapy Center, the first intensive therapy clinic in Virginia, now a part of Bon Secours. She served on the board of the March of Dimes, which funds research to improve diagnoses, protocols, education and treatment for premature births and served as the 2014 Richmond March for Babies Chair and Ambassador Mom.  Leigh is the former board chair for Sportable, a nonprofit that helps athletes with physical and visual disabilities achieve goals through sports. She has also served as a board member of Chamber RVA and Junior Achievement.
Leigh has been recognized as one of Style Weekly's "Top 40 Under 40," and is a graduate of Leadership Metro Richmond.  She served as the 2019 Go Red Chair for the American Heart Association in Richmond. She most recently recognized as one out of nine to receive the YWCA's Outstanding Women's Award in 2020.
Panelist: Karen Mitchell, MSN, RN, Vice President, Patient Care Services, Chief Nursing Officer for Children's Hospital of the King's Daughter
Karen Mitchell, MSN, RN is the Vice President for Patient Services and Chief Nursing Officer at Children's Hospital of The King's Daughters in Norfolk, VA. She received a BSN from the University of North Carolina in Chapel Hill and MSN from George Washington University.
Karen has been at CHKD since 1996 and began her career there as a clinical research coordinator. She served the Hematology/Oncology Service line for 10 years and has been in her current role since 2015. She has previously worked at the Medical University of South Carolina, Landstuhl Regional Medical Center, and Texas Children's Hospital.
She is a member of the Bioethics Advisory Committee and serves as the executive sponsor for "Support U", CHKD's second victim peer support program. In the community, she serves on the Board of Directors for the Ronald McDonald House Charities and Old Dominion University Health Sciences Advisory Board. She is an active member of St. Andrew's Episcopal Church, loves playing Mah Jong, and has a Little Free Library in her front yard.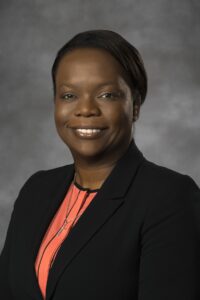 Panelist: Jeniece Roane, MS, RN, NE-BC, Associate Vice President for Operations for the Children's Hospital of Richmond at VCU, Interim Vice President for Patient Care Services, Interim Chief Nursing Officer for the VCU Medical Center
Jeniece Smith Roane has been a registered nurse for 28 years.  She is the associate vice president for operations for the Children's Hospital of Richmond at VCU. Presently, she is also serving as the interim vice president for patient care services and the interim chief nursing officer for the VCU Medical Center. Jeniece holds a Master's degree in nursing administration and leadership and is certified as a nurse executive. Her clinical background is in pediatrics and pediatric critical care where she has held formal leadership roles since 2002.
Recent accomplishments include leading teams: to achieve Level 1 verification by the American College of Surgeons of Children's Hospital of Richmond's children's trauma and children's surgery programs, to achieve Baby Friendly designation, and in the design of Children's Hospital of Richmond at VCU's inpatient facility which is scheduled to open in 2023.
Jeniece has a keen interest in the proactive prevention of non-accidental childhood trauma by establishing community partnerships and providing education and outreach to vulnerable populations.  She is currently enrolled in the PhD program at the VCU School of Nursing, seeking a PhD in Quality and Safety where her focus is on the prevention of child maltreatment.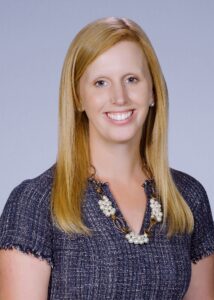 Panelist: Ashley Kelly, Vice President of Outpatient Services for Bon Secours Health System
Ashley Kelly is Vice President of Outpatient Services for Bon Secours Health System. In this role, Ashley leads operational oversight, strategic initiatives, and growth of ambulatory services including outpatient imaging centers, physical therapy, sleep lab, and radiation oncology services for the Richmond market. Ashley joined Bon Secours in 2011 and has held various planning, strategy, and business development roles. Prior to joining Bon Secours, Ashley worked in health policy Washington, DC and completed an Administrative Fellowship with Roper St. Francis Healthcare in Charleston, SC. Ashley earned a Master of Healthcare Administration from University of North Carolina and a Bachelor of Arts in Biology and Psychology from the University of Virginia.
Event Registration
You must be logged in to register.